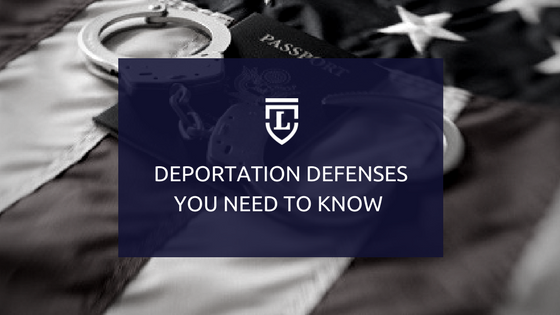 The most common legal defenses against deportation that an immigration attorney can make on your behalf fall under the category of relief from removal defenses.
An immigration attorney can help you understand the details of your case and potentially provide you with a defense to help you avoid deportation. Below you'll find the most popular defenses against deportation:
Asylum and Withholding of Removal
Many people have fled their native country (e.g., Guatemala) because of unsafe conditions in that country like gang violence or civil strife.
If you feel that fits your circumstances, one form of protection is claiming that you fled violence or persecution in your home country before arriving in the United States.
A withholding of removal deportation defense is more difficult to prove than an asylum defense; you have to prove that persecution in your native country was "more likely than not" likely.
If you qualify, you could receive a work permit and eventually a green card.
Adjustment of Status
If you have married an American Citizen, you may enable you to apply for adjustment of status to permanent resident.
You typically, however must have entered the United States legally to be eligible for an adjustment of status, although there are exceptions to this rule.
Cancellation of Removal
The U.S. Department of Justice allows you to potentially obtain a green card if you can show A) ten years physical residence in the United States, and B) that your removal would cause extreme hardship for a qualifying relative like a child, spouse, or parent.
Prosecutorial Discretion
The Department of Homeland Security in 2011 indicated in the Morton memo that ICE attorneys could argue for prosecutorial discretion.
If your case is low priority, your deportation case could be administratively closed by the Department of Justice.
Factors that Help and Hurt Your Chances of Avoiding Deportation
Consider these positive and negative factors that could help or hurt your chances of being deported.
Factors that Help
Having close family ties within the United States or having been in the United States for a number of years are both positive factors that could enable your immigration attorney to make a case against deportation.
Having a hardship befall yourself or an immediate family member may also increase your chances of staying in the United States. Having deep roots in the community, a history of community service, and paying your taxes on time help too.
Factors that Hurt
Generally speaking, acting antisocially against the community in some way will hurt your chances. A failure to pay taxes, a criminal record, or other kinds of bad behavior will probably hurt your chances of not being deported.
Most immigrants, though, exhibit some or all of the positive factors listed above. They may have immediate family in the United States and they more often than not have made some kind of contribution to their community.
Contact an immigration attorney for a free consultation and to understand how your circumstances can work in your favor.