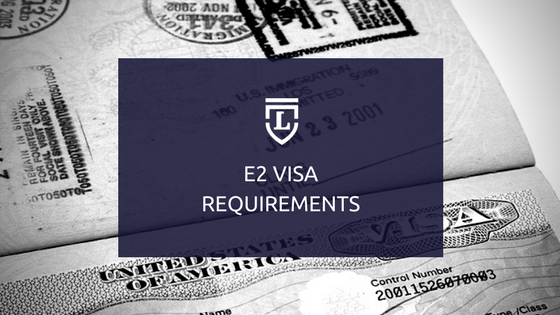 According to the most recently enacted government regulations, an E-2 Investor Visa allows a foreign-born individual to enter the United States and then work based upon their making a substantial investment in a commercial enterprise. In addition, the applicant must also control and manage the enterprise while staying in the country. Obtaining this type of visa is a quite expeditious way for a well-to-do foreigner to gain entry into the U.S. Still, there are a number of other requirements that anyone obtaining this type of visa must comply with. In particular, they are:
Initial documentation – As is the case with almost every bureaucracy within the United States, an E-2 applicant will have to submit a plethora of applications to the USCIS or to a consulate. Most notable are the Non-immigrant Treaty Trader/Treaty Investor Application (form DS-156E) and the Non-immigrant Visa Electronic Application (form DS-160). In addition, the applicant will have to provide a valid passport valid for travel within the U.S. and an extension date six months or more beyond the length of time that the applicant intends to stay. A credible business plan and a demonstration of the necessary funds to capitalize the venture will also be required.

Subsequent renewal – The initial E-2 visa is typically valid for two years. Subsequently, it may need to be renewed every two years. In addition, there is no limit on the times it can be renewed – essentially making it essentially a lifetime permit to live in the U.S. if the intended business does well. Again, the paperwork to make the extension happen are numerous and lengthy. They include Form I-129 (the Petition for Non-immigrant Worker), Form I-539 (Application to Extend or Change Non-immigrant Status), a Copy of Form I-94 (Arrival/Departure document),a copy of the original Form I-797 (Notice of Action) as well as an employer-generated letter demonstrating why extension is required or copies of the business' prior two year's tax returns plus payroll tax returns.

Availability is only open to citizens of certain countries – An E-2 applicant must be a legitimate citizen – although not a resident – of any of the eighty countries that are signatories to a treaty of commerce and navigation or a bilateral investment treaty with the United States. This requirement means that it is not enough for the applicant to merely maintain a legal permanent residency in one of those countries. Instead, their current passport must simply be issued from one of the treaty countries.

Expansion to qualified employees and relatives – An E-2 visa is also available to non-investor qualified employees. While these employees will not have to document their own financial capabilities as pertains to the business, they will have to demonstrate the same nationality as the investor and that they are destined for an executive position or other role that is essential to the success of the enterprise such as specialized skills. Upon conclusion of their specialized duties, these visa holders are required to return to their country of origin. Alternatively, they can attempt to upgrade to immigrant status before having to actually leave the country. Similarly, spouses and unmarried children under 21 may receive a derivative E-2 visa in order to accompany the principal immigrant.
As you can see, there are a number of twists and turns to obtaining an E-2 visa and the help of a knowledgeable attorney is always helpful in this regard. For more specific information on the above mentioned E-2 visa requirements and any others or to schedule a free consultation with an immigration attorney, please contact us.