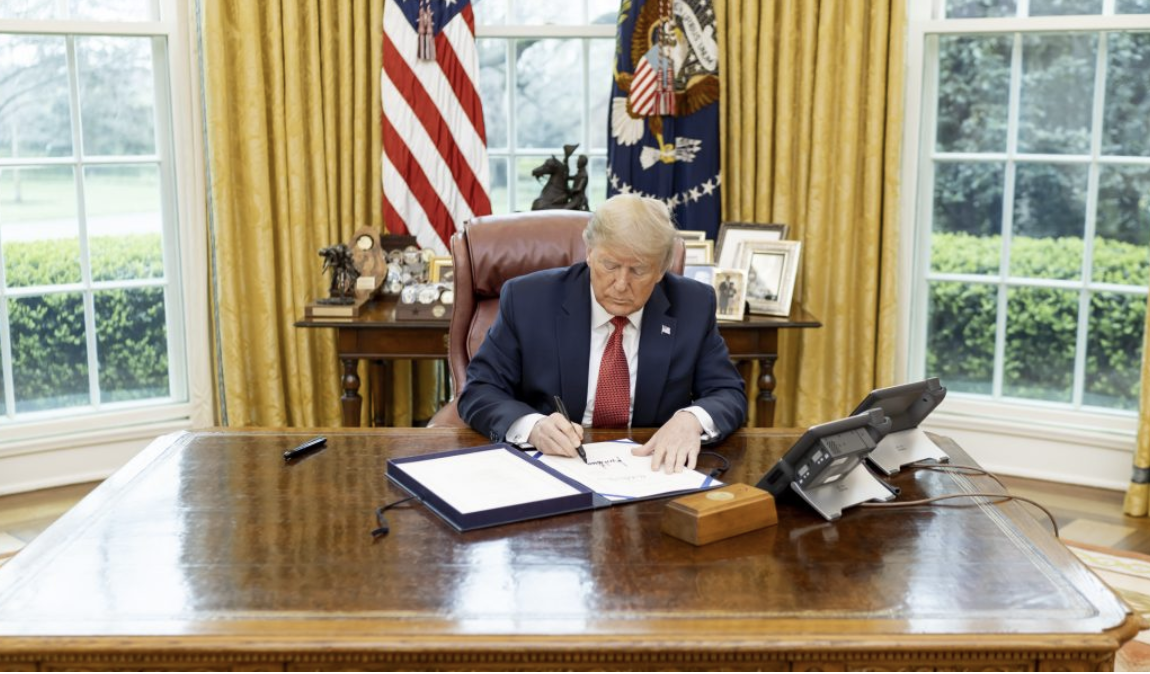 (Photo Credit: Getty Images)
On Monday, April 22 President Trump announced a short-term pause on the issuing of new green cards. Initial information pointed to a 60-day freeze on approvals for those seeking permanent residency in the United States.
Yesterday evening more details were released upon the official signing of the executive order.
According to official documents, immigrants seeking Green Cards who are currently outside the United States and who DO NOT have the following documents will be unable to enter:
Anyone without a valid immigrant visa as of April 23, 2019;
A person without an official travel document other than a visa (such as a transportation letter, an appropriate boarding foil, or an advance parole document) that is valid as of April 23, 2019.
This executive order WILL NOT affect the following individuals:
Green Card holders - Any lawful permanent resident of the United States;
Foreign Doctors -Anyone seeking to enter the United States on an immigrant visa as a physician, nurse, or other healthcare professional involved in combating the COVID-19 pandemic;
Foreign Investors - Any individual applying for a visa to enter the United States pursuant to the EB-5 Immigrant Investor Program, which requires a $900,000 investment;
Accompanying Family - Any spouse and unmarried children under 21 years old of any such alien who are accompanying or following to join the alien;
Spouse of a US Citizen - Any alien who is the spouse of a United States citizen;
Children of a US Citizen - Any alien who is under 21 years old and is the child of a United States citizen, or who is a prospective adoptee seeking to enter the United States
Military and Police - Any member of the U.S. Armed Forces or member involved in law enforcement, including their spouses and children;
Iraqi & Afghani US Gov Workers - Any citizens of Iraq or Afghanistan employed by the U.S. Government.
Aliens of National Interest - Any alien whose entry would be in the national interest, as determined by the Secretary of State, the Secretary of Homeland Security, or their respective designees.
The latest executive order also outlines a review process of 30 days from today to determine if other measures will be taken.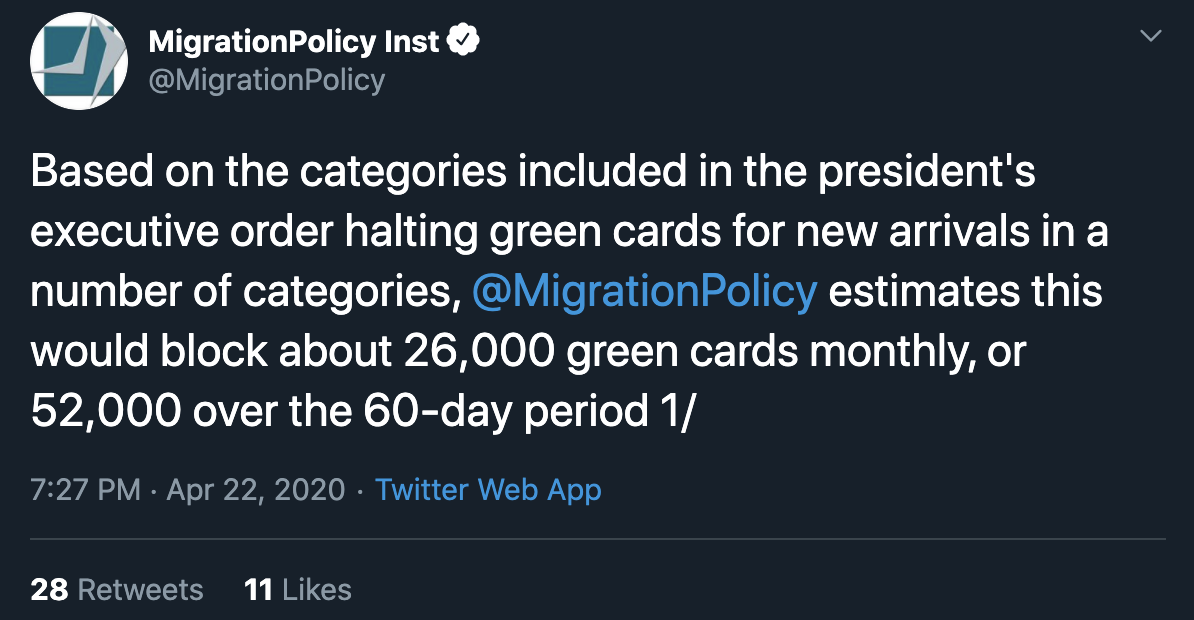 What Does This Mean for Green Card Applicants?
Individuals currently outside the United States who do not have a valid visa will be unable to enter the country. Current Green Card holders will not be affected from re-entering the country. Workers on temporary visas, such as those on H-1B or L-1 visas, are also not affected by this measure.
For those outside the United States with pending applications for permanent resident status, approvals will be suspended until the end of the 60-day period, beginning today.
The executive order does not place a pause on the submission of Green Card applications, however, for those individuals who are lawfully inside the United States.
How You Should Proceed
While the Trump Administration's executive order places a 60-day halt on new green card issuances for those currently outside the United States, your submission can still be placed in the queue for when the approval process begins again.
The typical Green Card submission and review process takes 12-18 months. A 60-day pause will not derail your plans towards obtaining residency in the United States.

Loigica Attorneys will continue assisting with the preparation of all permanent labor certifications and filing adjustments of status for Green Cards. Our goal is to continue providing our clients with the best timetable for obtaining permanent residency.
We strongly urge applicants to prepare and file applications for adjustments of status as soon as possible. Working with an experienced immigration law firm such as Loigica, Attorneys at Law will minimize errors and provide you a clear roadmap for the entire process.
Contact a member of our team today for a free consultation. Stay informed about how the latest immigration news affects you by bookmarking our blog today!