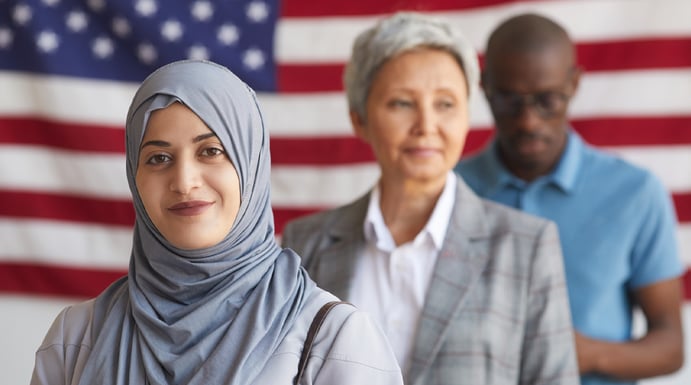 Many companies make statements, create programs, and drive internal committees and structural changes towards diversity, inclusion, and equity, also referred to as DEI. Because diversity spans several criteria, such as gender, race, ethnicity, religion, and marital status, among other elements, DEI programs are complex and also examined very closely. The important thing to consider is progress over perfection, and understand that incremental changes over time can lead to great company culture evolution.
Look to foreign talent for diversity opportunities
One way to step up your DEI program is by actively integrating immigrants into your company dynamic. Foreign born talent is crucial to the innovation and success of American enterprise, and this sector of workers has experienced the sharpest decline in job opportunities since the onset of COVID-19. This upheaval in immigrant jobs also came on the heels of anti-immigrant rhetoric throughout four years of the Donald Trump administration and its embrace of restrictive immigration policies that dramatically limited the opportunities available to immigrants and refugees.
Consider what happens when foreign talent arrives
Large corporations around the United States have a few ways to incorporate and welcome foreign talent into their operations, such as the H-1B visa, PERM programs, and language development programs for employees. You may not be aware that more than 20 million U.S. adults have limited proficiency in English. This lack of English proficiency, however, has nothing to do with a worker's job skills, potential or competence, but it provides a unique opportunity for companies to offer English language development groups and other resources to foreign talent that comes to join their team in the United States.
Developing foreign talent recruitment as a full program
Recruiting foreign talent is only half of the process--to achieve long term success, gain loyalty through H-1B and PERM programs, and also create a culture on inclusivity and diversity, talent development teams need to consider the onboarding, training, and development opportunities that await foreign talent once they arrive. While foriegn talent is looking to come to the United States, the employment visa is something that they can potentially carry to another interested employer who is willing to take over their sponsorship. In fact, this happens when an H-1B employee is laid off during moments of change, such as the COVID-19 pandemic. By creating an environment that your foreign talent wants to be a part of (along with your native born American talent), you take a cue from Richard Branson, who said "train people well enough that they can leave, treat them well enough so they don't want to."
If you are looking to bring foreign talent to your U.S. business, contact our team of attorneys today for a free consultation.