Honorably discharged US Marin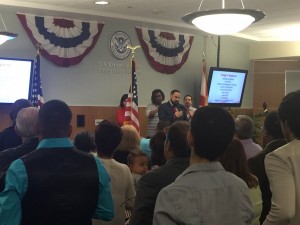 e "Rod" born in Nicaragua, was recently naturalized in a Miami Citizenship Center where he led a group of 181 freshly Naturalized US Citizens in reciting the Pledge of Allegiance. The ceremony officials publicly recognized him for his service in the armed forces.
LOIGICA is proud to have help this American hero become a US Citizen.
Many of Rod's foreign-born brothers-in-arms, however, will face deportation despite their combat services. Green Card holding servicemen and servicewomen may face deportation if they have a criminal record. A recent NPR Article highlighted the story of veteran US soldier, Hector Barajas, who runs the Deported Veteran Support House in Tijuana, Mexico, nicked named "The Bunker." At the Bunker, Barajas provides fellow servicemen a refuge where they support each other while they work to integrate to Mexican society or attempt to legally return to the United States. Barajas who served in the military from 1995 to 2001, was deported in 2005 to Mexico due to a drug related offense. Today he faces an uphill battle as he works with immigration lawyers to be admitted into the United States and be reunited with his family.
The Immigration and Naturalization Act Sec. 212. [8 U.S.C. 1182] provides the grounds of inadmissibility. Specifically, the INA states:
[…] aliens who are inadmissible under the following paragraphs are ineligible to receive visas and ineligible to be admitted to the United States:
any alien convicted of

[…] a crime involving moral turpitude (other than a purely political offense) or an attempt or conspiracy to commit such a crime
a violation of…any law relating to a controlled substance

Multiple criminal convictions. -Any alien convicted of 2 or more offenses
Unfortunately, like Barajas, some veterans face trouble integrating back into society and resort to abuse of controlled substances or become involved in criminal activity. Despite having risked their lives in foreign lands, they remain subject to deportation if they are permanent residents (Green Card holders) and have not become Naturalized Citizens.
Fortunately, Rod is among the many successful veterans who have gone into the online technology business or become entrepreneurs. Today he is the co-founder and Chief Executive Officer at Rizen Corp., an inbound marketing business, and is role model for both civilians and servicemen alike.
Please contact LOIGICA if you want to learn more about becoming a US Citizen or want to help a serviceman or servicewoman become a US Citizen.