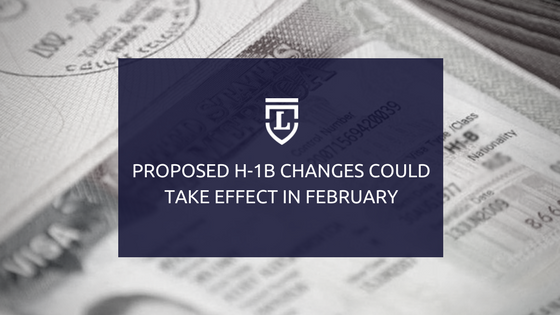 The process of obtaining an H-1B visa could become significantly tougher as the Department of Homeland Security considers policy changes. The changes would make the selection process much more stringent.
The Department of Homeland Security is considering reinstating a 2011 rule proposal that required H1-B visa petitioners to pre-register for the H1-B cap lottery. If the Department of Homeland Security goes along with the proposal, companies would submit cap petitions only once they win cap numbers.
How would all of this effect the H1-B visa process? The proposed change, if it goes through, could mean that the Department of Homeland Security gives priority to the highest paid or most highly skilled workers.
Firms May be Required to Register Electronically
The proposed changes could come into effect as soon as January. If that occurs, then U.S. companies might be required to register electronically and abide by a yearly cap of 85,000. The proposal would also alter the definition of a "high specialty" occupations.
The 85,000 number breaks down like this - firms will be allowed to bring in 65,000 foreign workers coming to the United States from abroad, and in addition, firms will be able to hire 20,000 foreign student workers with advanced degrees that are already at U.S. universities and colleges.
The plan is to have the United States Citizenship and Immigration Services department pick employers at random from the pool of employers that have registered electronically.
Nearly three-fourths of H-1B workers come from the nation of India, and many of these workers are IT and programming specialists. Silicon Valley benefits tremendously from the H-1B program. Companies like Facebook and Google will definitely be paying close attention to upcoming changes in the H-1B program.
Repeal of Obama Rule Yet No Official Details on Replacement
The proposal affected pre-registration with the Department of Homeland Security was presented in late 2017. Yet clear details about how all of this will play out won't be officially known until the rule change is published in the federal register. That could happen as early as February.
What's just as interesting is that the regulatory overhaul put forward by President Trump's Department of Homeland Security showed a willingness to repeal a rule from the Obama era that allowed the spouses of visa holders to obtain work permits themselves.
Many have interpreted the decision to repeal this rule from the Obama era as perfectly in line with President Trump's message of protecting American jobs no matter what.
Protecting both U.S. workers and wages in the United States is seen as paramount. From February onwards the Department of Homeland Security might change the way that it isolates the best and brightest foreign workers. Until the rule is officially entered in the federal register, though, the specifics won't be known for certain.
Ahead of the official changes, many immigration experts think that giving priority to foreign workers commanding higher salaries could be an indirect way of protecting U.S. workers in the sense that U.S. employers would be less inclined to hire foreign workers for low-wage jobs.
Immigration Attorneys have Plenty of Work Ahead
Immigration law attorneys already have plenty on their plates due to the implementation of new policies by the current administration. The percentage of H-1B cases receiving extra scrutiny from the United States Citizenship and Immigration Services (USCIS) department (part of the Department of Homeland Security) has more than doubled.
The USCIS is now considering whether computer programming and IT positions, in fact, require only a bachelor's degree. If you're wondering how these proposed changes will affect you and your family, then consider scheduling an appointment with an experienced immigration attorney.