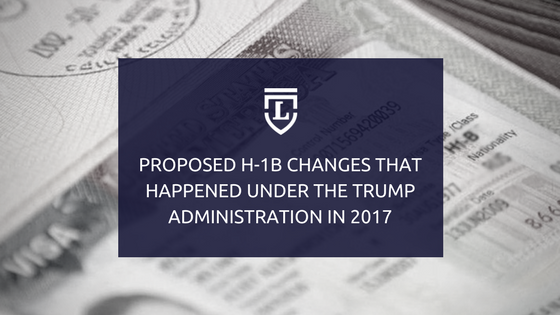 The H1-B visa program is part of the Immigration and Nationality Act. An H1-B visa allows local employers to hire foreign workers in specialty occupations like IT, accounting, and finance.
Generally speaking, the H1-B visa program is designed for professionals in a diverse range of high-level fields that range from tech and science to engineering and medicine. Usually, a foreign worker would first need to show that he or she holds at least bachelor's degree or its equivalent.
An H1-B visa has a maximum duration of six years, but the H1-B visa is typically granted for three years initially and then extended.
H1-B Visa Reform Throughout 2017
News first broke that Trump was planning on giving the H1-B visa program a significant overhaul back in April. In April, Trump signed an executive order that fleshed out more of his "buy American, hire American" domestic policy, and that shift of direction included changes to immigration policy.
President Trump's executive order asked four federal agencies to only give H1-B visas to the highest skilled and most profitable skilled foreign workers asking for the employment-based, non-immigrant visa. The Trump administration also expressed consternation at the fact that H1-B visas were previously administered via a lottery.
The cap on H1-B visas is also a problem that the Trump administration sought to rectify. The yearly quota of 85,000 H1-B visas was reached in only five days after applications started getting screened on April 3rd. Over twice as many applications than visas were submitted. '
October Changes to Visa Processing
In October, the USCIS released a policy memorandum indicating that they would no longer give deference to prior approval at the time of extension. This policy memorandum superseded a previous USCIS memorandum released on April 23rd.
As of October, USCIS resumed premium processing for any petitioner seeking an H1-B visa. This affects all H1-B visa extension of stay petitions, which could simplify and speed up the processing time. Normally, the Department of Homeland Security require 15 calendar days of processing time or they'll refund the $1,225 via processing fee.
The Department of Labor still requires that the employee pay the premium processing fee. As of 2017, the law requires employers or the sponsoring company, rather than the foreign worker, to pay H1-B visa fees. An immigration lawyer can help you understand the process further.
Big Changes Proposed in November
The House Judiciary Committee proposed making significant changes to the H1-B visa program back in November. The Protect and Grow American Jobs Act The bill potentially does three noteworthy things to the H1-B program:
It lowers the percentage of workers a firm can hire as H1-B workers down from 20 percent;
it proposes a minimum salary raise for H1-B workers; and
it subjects firms that rely heavily on H1-B workers to five random investigations by the Department of Labor.
United States Citizenship and Immigration Services (USCIS) said that changes to the direct filings process will affect employers and visa holders in certain states, effective November 11th. The change means that petitioners will now file form I-129 in the state where the company's primary office is located.
Additionally, petitioners in four states (Georgia, Florida, Texas, and North Carolina) should file form I-129 with the California Service Center. Here is a page that will allow you to look up direct filing addresses that could apply to your situation.
The latest news is that the Trump administration might urge DHS to refuse extensions to the H1-B visa program. Contact an experienced immigration attorney to understand how these proposed changes might affect you.