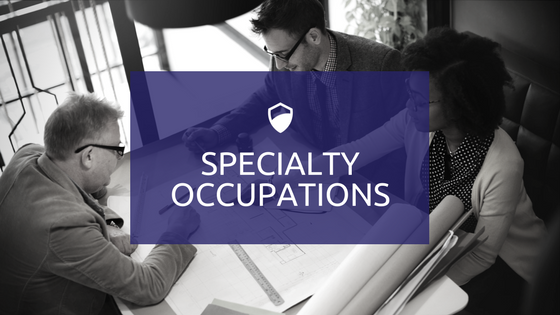 In order for a US company to employ a graduate level worker from a foreign country and for US immigration to allow them to apply for an H1B Visa, one of the criteria is that the occupation fall under the category of a specialty occupation. What exactly is a specialty occupation? Read further to learn more.

A specialty occupation is a job in a highly-specialized field in which theoretical and practical application is required and a Bachelor's degree or higher (or its equivalent) is needed to enter the occupation.

The qualifications for positions in a specialty occupation include:

The degree requirement for the job is common to the industry or the job is so complex or unique that it can be performed only by an individual with a degree.
The employer normally requires a degree or its equivalent for the position.
The nature of the specific duties is so specialized and complex that the knowledge required to perform the duties is usually associated with the attainment of a bachelor's or higher degree.

Specialty occupations are very common among the fields of science, technology, engineering, and mathematics (STEM) because they usually require at least a Bachelor's Degree and often higher levels of education. Below you'll find a list of occupations that fall under these categories:

Accountants and Auditors
Architects
Biologists
Budget and Management Analysts
Chemists
Civil Engineers
College and University Educators
Database Administrators
Data Communication and Network Administrators
Economists
Electrical and Electronic Engineers
Financial Analysts
Graphic Designers and Artists
Industrial Engineers
Mechanical Engineers
Physicians and Surgeons
Sales and Distribution Managers
Software Engineers
Statisticians
Surveyors
Systems Analysts and Programmers
Teachers, Primary and Secondary Schools
Therapists

If you want to ensure that your job is a specialty occupation, do not hesitate in contacting us for a free 1-hour consultation.