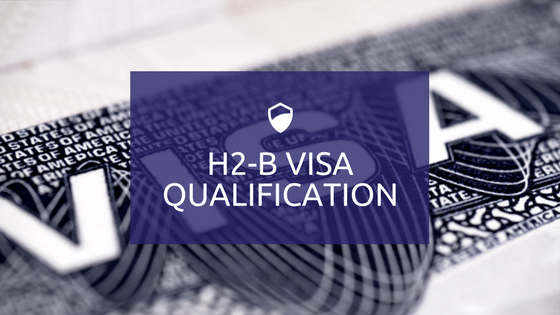 The H-2B is a temporary work visa that allows foreign workers to come to the United States to work in seasonal, non-agricultural jobs. This petition must be filed by the employer and to qualify the applicant must prove the following:

The United States does not have enough U.S. workers who are willing, capable or qualified to the work.
Employing H-2B workers will not impact the wages and working conditions of U.S. employees.
The H-2B visa holder will provide temporary service or labor. The word "temporary" is determined based on one of the following four aspects:

One time occurrence: A temporary event creates the need for a temporary worker who can perform the temporary job. There are no other workers who perform this temporary job. The temporary job won't be needed in the future and hasn't been performed in the past by a current employee.
Seasonal need: This type of worker is usually connected with a labor need tied to a season of the year, event, pattern, or a recurring natural event. You are not allowed to claim seasonal need if the service you need is considered unpredictable, subject to change, or a vacation period for your permanent employees.
Intermittent need: The petitioner/employer has not employed permanent workers to perform the required service and every now and then needs temporary workers to do a specific labor or service for a limited amount of time.
Peak load need: The petitioner regularly employs permanent employees to perform the services at the place of employment but, because of market circumstances, the employer needs to supplement its permanent staff for a short period of time. The temporary worker cannot become a part of the employer's permanent business operation.

If you need any help making sure you are qualified for this visa or have any other questions about this tedious process, don't hesitate to call us for a free 1-hour consultation about immigration law.
Save